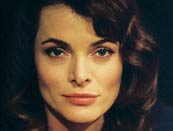 Angel isn't shown on the BBC, but there are plenty of ways to catch up with his exploits:
Angel season five is showing on Sky, at 9pm on Tuesdays, with the first episode going out on January 13th 2004.
Season three: Channel Five were screening Angel season three on Monday evenings at 8pm. The first episode went out on 2nd June 2003. Since last autumn, the show has been on hiatus, but it should resume on 6th April with the last third of season three.
Additionally, Angel seasons one, two and three are available as DVD box sets. Click on the links below for more information:
Angel season one DVD box set
Angel season two DVD box set
Angel season three DVD box set
Season four will be released on 1st March 2004.
Videos box sets are also available for seasons one, two, three and four.