Dan Dare, Pilot of the Future, was the British comic hero of the fifties and sixties - no webslinger or bat-fetishist could threaten his place in the hearts of a generation of small boys. A quintessentially British figure, stiff-upper lipped Dan, weekly fought off the bubble-headed menace of the Mekon, keeping the spaceways safe for all.
Dan made his debut as the lead character in The Eagle adventure comic on April 14th 1950. He was created by Frank Hampson, who wrote most of the stories, and oversaw the art for the first ten years. The bright, exciting strips, with their thrilling tales of adventure on exotic planets - in full colour! - were an instant hit.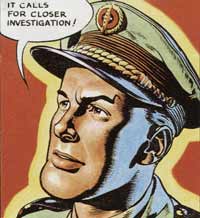 Many of Dan's exploits took place on Venus, a divided planet, inhabited by the emotionless Treens and and their meglomaniac leader The Mekon in the north, and the peaceable Therons in the south. A wizened, tiny figure who traveled on a personal flying saucer, The Mekon was physically feeble, but made up for this with his huge intelligence - shown by his enormously enlarged head.
A cheerful, trustworthy soul, Dan had many friends who aided him in his exploits, including faithful batman Spaceman Class 1 Albert Digby, his boss, Sir Hubert Guest, Spacefleet Controller, fellow pilots Hank and Pierre, and boffin Professor Peabody, who was also distinguished by being a rather fetching young lady! Missions were usually undertaken in his personal spaceship, the Anastasia.
A proper fifties gentleman, Dan was moral, loyal, brave and willing to put death over dishonour. There was never a hint of any derring-do with the beautiful young Prof Jocelyn Peabody either! That Dan should have had such high moral standards is not too surprising given that Marcus Morris, the founder of The Eagle, was a vicar who also published strips based on the Bible and the lives of great men like Winston Churchill.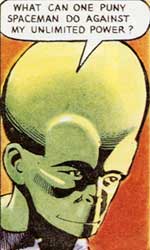 While the rock-solid ethics of Dan and his pagemates might have won over the parents who actually paid for The Eagle, it was the high standard of the comic that drew boys in their thousands to demand it. The competition consisted of boys' papers that had stayed virtually unchanged since the twenties, with only odd pictures for whole pages of text. The Eagle's terrific artwork, great writing, glowing colours, and proper strips meant it stood head and shoulders above these mags, and this quality was rewarded by enormous sales figures.
After Frank Hampson's departure in 1961 the strip continued under various writers, but it had lost much of its freshness. Management changes in the early sixties affected the style of The Eagle too, and at the same time competition was increasing, with many British action titles on the market, plus imports of US superhero titles like Spider-Man. After a long decline, The Eagle finally died in 1970.
This wasn't the end of Dan's adventures though. His iconic position in British comics meant that, when a new British sci-fi comic was being planned, reviving him was an obvious move. Dan had his second, but not last, lease of life within the pages of 2000AD, where he adventured once again, this time in the far future. Originally planned to be the keynote character of the comic, Dan was very quickly eclipsed by a certain ruthlessly brutal future cop.
Dan's last 2000AD adventure was in 1979. Then, in 1982, he was called out of retirement once again, to star in the revived Eagle comic. Printed on glossy paper, with columns by celebrities like Lenny Henry and Daley Thompson, The "New" Eagle was an attempt to return to the high standards of the original comic. Dan, too, was returned to his Fifties glory by scribes John Wagner and Pat Mills.
Sadly, these good intentions didn't last, and Dan was reborn as a Space Marshall with a big gun, interested only in blasting alien menaces. A second return to his origins met a similar fate, and both Dan and The Eagle ended once again in 1993 - with circulation at a paltry 20,000 per week.
But all stories of bold space adventure should have a happy ending, and happily, Dan is alive and well again today, starring in his own CGI cartoon. Animated by Foundation Imaging, the series concentrates on Dan and Digby. The twenty-six episodes were screened by Channel Five, in an early morning slot - so introducing a new generation to the thrilling tales of Dan Dare - Pilot of the Future!