Screensaver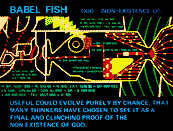 Download Windows (1.6 Mb File)
Download Windows XP (2.1 Mb File)

Thanks to Rod Lord's generosity with his beautiful images, we can now make this exclusive Hitchhiker's Guide screensaver available.

How to download and install your screensaver
Download and save the file to your hard-drive by clicking on the link below. Remember where you save it - you'll need to find it in the next step!

We're sorry, but the screensaver is only available for Windows. Yes, we are aware that Douglas Adams was a Mac user, and that it would be appropriate and so on, but no - sorry, we just don't have a Mac-compatible screensaver maker. Please don't email us.

Find where you saved the file on your computer, and double-click the install_guide_animation.exe executable file. The screensaver will automatically install itself.
The screensaver's controls are accessible through the Screensaver tab of your computer's Display Control panel. Find this in the Settings | Control Panels submenu of your Start Menu, or by right-clicking on your desktop and choosing Properties from the pop-up menu.
Please note that although the screensaver's controls have a sound setting, the screensaver contains no sound.
Disclaimer:
The BBC has taken all reasonable care to ensure this Hitchhiker's Screensaver contains no errors, viruses or defects, however, the BBC does not warrant that this is the case. You are advised to ensure that you take precautions to protect your computer from virus infection. The BBC will not be liable for any loss or damage which you may suffer as a result of or connected to the use of the software.