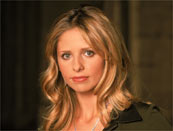 Sarah Michelle Gellar's husband, Freddie Prinze Jnr, has suggested that the Buffy star received something of a rough ride during her final years on the show.
"A lot of people owe Sarah a lot for doing that show," Prinze told the Zap2It web site, "and she doesn't always get the credit she deserves. She's a very strong woman, because she deals with a lot of nonsense, and instead of that nonsense, she should be thanked - and she's not. That's the reason she won't be coming back."
Without going into specifics, Freddie added: "Sarah's the most appreciative person in the world, and if that environment would have remained the way it would six years ago, she would go back, because she's loyal. But things change, and people's egos get in the way sometimes. They make poor decisions."
Sarah and Freddie head off to Vancouver this week to start work on the sequel to their hit film Scooby Doo. They'll be joined by Seth Green, who plays a museum curator in the movie.