Farscape interview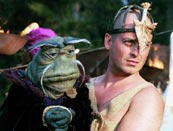 Puppeteer Jon Eccleston - Rygel's right hand man.
Jon is the man who brought Rygel to life - he operated the Hynerian during season one of Farscape.
Here he answers fan questions on performing, pranking around on set and more. Will he reveal all about the Farscape mini-series?
There's only one way to find out - follow the link to read the interview.
---
---