Dominic Keating interview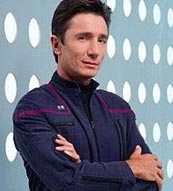 Enterprise's Malcolm Reed chats about Zero Hour and more.
In time for the UK premiere of Zero Hour, the Enterprise season three finale, we chatted with Dominic Keating, who plays weapons officer Malcolm Reed in the series.
Zero Hour can be seen on Sky One at 8pm on Monday 7th June.
Tell us a little about what happens in the finale.
Everyone dies, and that's the end of the show [laughs].
It's a good finale – my girlfriend said she saw it in America a week and a half ago, and said it was absolutely terrific. I think it rounds off the season really cleverly, with a lot of action and adventure and suspense, and a lovely twist at the end that just makes you scratch your head and wonder at what you've just seen.
Does Reed save the day in the episode?
I'm very much the action man throughout this season, [and] I certainly go to the Captain's rescue.
I don't want to give too much away, but yes, there's some nice action stuff for me. I come off quite heroic, my girlfriend said to me. Which is always good.
It must have been very nervewracking waiting to find out if Enterprise would be renewed.
There was a time about five, six months ago when we were all on set with one another, and we were looking around at one another going, "Damn, this might be it, on our watch."
I'm quite a worrywart actor in terms of security. For someone who hangs on to security and not change, it's surprising that I took a career step like becoming an actor, because it's so not in your hands.
So there was a period of time when I was rather worried. I signed for seven years, and they kept telling me it was going to be for seven years and it looked like it was going to be three and that was it. I was getting my head around the fact that I wasn't going to have all that secure work for the next three years, and the house I'd bought, and thinking, "Ooh, I wonder if I can afford that mortgage", so it was quite a relief when we did get the pick-up.
Towards the time when they had to let us know, I think we all felt that the tide changed, and that we were going to come back. It was too much in their interests to get their hundred episodes for syndication, and the third season had performed so well. This one gives them their syndication year, so it all depends on how we perform again this year.
Will Enterprise go the full seven seasons, do you think?
I would say no, unfortunately. There's two arguments here. One is that Paramount has made a lot of money out of the show for the last seventeen years, and the back lot at Paramount is basically run on the back of Star Trek. So without it there's a big hole there, a massive hole.
In the same boat, it's an expensive show, and UPN seem to want to try and nix it. There's also a lot of politics involved, because the management who now run our network have no relationship with the studio that makes the show for them, that relationship's gone.
The new management has been put in place at UPN to try and eke out a new demographic and bolster up failing audiences, and we don't fit into what they imagine. But in the same bracket we happen to be their number one drama. So it's a double-edged sword. As much as they'd love to get rid of us, they can't.
The other past incumbents of the show were fêted and lorded and treated like they were actors in the number one drama on the network that they were showing on, and that's a nice place to be, when the network and the studio treat you like you're the number one people. Instead of which we're a bit like the poor cousin that came to dinner at the moment.
Are you happy with the way Malcolm Reed has developed as a character?
Yeah, I've had a great time playing Malcolm Reed. It's a little bit of an acting excursion for me, to play someone quite buttoned down and a bit terse and a bit locked up on himself.
I'm quite extravagant and exuberant and it's nice to get a role where you can actually be someone else. Then through the years, you allow a bit of yourself to rub off, and permeate the character and flesh it out. But it wasn't as simple as just turning up and turning on the tap and letting Dominic come through Malcolm.
How did you get the part?
They actually met me for a guest star part on Voyager, which was when I met [producers] Brannon [Braga] and Rick [Berman].
I thought I was going to get that job, as I remember. I'd done so well on the audition. And sure enough they liked me, but they didn't want to waste me as a guest star on Voyager.
They knew they were coming to formulate Enterprise. Rick told me he had my photograph on his desk at work for about eighteen months. But I didn't know. All I knew was the bastards didn't give me the job on Voyager.
What's been Reed's bravest hour so far?
Probably Minefield, in the beginning of the second season, where he goes out onto the hull of the ship to defuse a Romulan mine and he gets spiked through the leg.
It's a good moment for him, and it was a good episode for me because I actually hadn't had any real interaction with Scott Bakula up until then, and we spent the whole week together making that episode. And I think Malcolm comes off pretty well there.
Which other cast member do you most enjoy working with? It's a lovely cast, I have to say. I recognised that right from the read-through.
I really love working with Connor [Trinneer], just in terms of doing scenes. We seem to have some sort of chemistry together. Our characters are a little like the odd couple, and he's a very good actor, and we have a simpatico with one another.
We've actually become very good friends outside of work as well. So if you forced me [to pick one person], Connor and I have a good chemistry. [The producers] saw that right from the get-go – we had one little scene together and then they wrote Shuttlepod One for us in the first season, and it gelled itself there. So I hope that we get a lot to do in the forthcoming season.
Do you bring much of your comedy background into the role?
When I feel a moment for Malcolm to be wry I let Dominic come through. Funnily enough, when I started out as an actor, I didn't even know I could play comedy. I was somewhat in the Laurence Harvey mold, slightly tortured and a bit angry.
[After] we finish Star Trek I would very much like to try again in a half-hour [comedy] in L.A, or failing that do some good movies. I'd love to go back to comedy, I enjoy it. They say it's the toughest job in the game, and I sort of understand [why], it's precise and you have a live audience.
The one thing that's lovely about it is, you don't do many hours. In that respect it's the easiest job in LA. You rehearse for two or three hours a day for about four days, and then you shoot for one or two and that's your workload. Whereas on our episodic series you are working for a minimum of twelve hours a day for five days a week, and sometimes those twelve hours go through to fifteen hours, sixteen hours, so it can be pretty gruelling.
Do you know what the next season holds for Reed and the crew?
No idea. I don't even know whether they intend to create another arc for the series with a through story, or whether they're going to go back to [an] episodic [format].
I think I'm right in understanding that Manny Coto, who was one of the new writers brought on last year, might be passed the mantle of running the show on a day-to-day basis. So Brannon would take a back seat and more an overview consultancy on the entire thing, rather than being so heavily involved in the day-to-day running of the show.
He's done it for about fifteen years and I think he's tired. It bodes quite well. [Manny]'s got a good eye for it, and he's certainly a good writer, and with Brannon overseeing the whole thing, I think we could come up with something quite interesting.
What would you like the future to hold for Reed?
If he just got laid it would be quite nice, wouldn't it? I mean, they give all the totty to Connor. Drives me nuts.
On one episode we did get some R&R. We went to Raisa, a sort of Ibiza-esque planet. And Connor and I thought we'd pulled a couple of fancy birds, but they turned out to be some dastardly aliens in disguise and they stripped us and mugged us.
What's your favourite Convention anecdote?
My favourite one probably [was at] my first Convention in Phoenix, Arizona. Just before going out on stage I was pretty nervous because it was my first time on the mic, in front of a room of a thousand people or something, and dying for a pee.
The only loos they had available were the ones the Convention itself was using. So I was quickly escorted across, and pushed open the door, and there were a couple of Klingons standing there. Full on, full regalia.
When turn up and and walk in, their eyes popped out on stalks. I pop round the corner for a tinkle, and I'm standing there, and I can hear them whispering, presumably about me, but in Klingon. I kid you not. [Makes Klingonish noises]. I just thought to myself, "Oh my god, here's my public."
---
---