Interview: Bill Mumy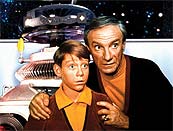 The Lost in Space star talks about the Robot, Dr Smith and more.
With the release of the second series box set of Lost in Space out on 5th July, we caught up with Bill Mumy, Will Robinson in the series.
How did you get the part?
"I didn't audition, I was offered it. I'd been working quite prolifically, for about five or six years before we started Lost in Space. One week I'd be a scary mutant in The Twilight Zone and another I'd be a nice little kid in a Disney movie. Before Lost in Space my family and I and my agent we had stayed away from television series, because my career was going so great.
"From the age of four, I was a huge comic fan and still am. When Lost in Space came along it was like being in a huge comic so we jumped at the chance of being part of that project and it proved to be a good choice."
Can you tell us about your comic book work?
"It got to the point in the late 70s and early 80s that I was spending so much money buying golden age comics that I could only justify it if I got work in the media. I was at a convention with the editor in chief of Marvel Comics. I pitched this idea set when Halley's Comet was about to come into our solar system in the upcoming year.
"That led to The Comet Man which went to a six part Marvel mini serial that sold « million books, so I started writing a lot of other things for Marvel; Spiderman, The Hulk, The Fantastic Fourå and I've also worked for DC... and then I wrote the Lost in Space comic for a couple of years, until its untimely demise."
You've been involved in attempts to revive the series. Do you consider yourself a keeper of the flame?
"There's talk about an animated project involving the original characters and I think that would be great. I had written a script way back in 1980 which would have been a resolution to the castaway storyline. As fate would have it, it didn't happen. But that's showbiz."
Was there any intention of you getting involved in the film that did happen?
"I was doing Babylon 5 season two and I was in all 22 episodes of that. So if I had done the film I would have had to have bought myself out of those episodes. I met with everybody on the film; they were very nice and respectful, they had read the comics and stuff. The bottom line was that there was only one part I would have done, which was the older Will Robinson. In the end they were only interested in a cameo.
"If you have a Lost in Space reunion without Dr Smith and Will it's like a Stones gig without Keith and Mick. I know they did their best, but it wasn't a great movie."
What were the trials and tribulations of working with the Robot?
"I can't say enough good things about Bob May who was inside the fibreglass box and really gave him character. He really brought it to life. He memorised all the lines but on playback it sounded like a voice from a fibreglass box so it was rerecorded. The prop was so great that even up close you didn't think it was cheesy looking."
What was it like working with Jonathan Harris?
"We just had a great chemistry. It was so much fun for me, to play straight man to his bizarre character that you loved to hate. Jonathan and the Robot and I just became The Three Stooges."
What were your favourite episodes?
"My favourite season is the first. There's an episode called Return to Earth which is a Christmas show and Will Robinson is transferred back to the planet Earth and manages to get a bottle of Hydrotechtrachloride which we desperately needed. There's The Keeper, which guest-starred Michael Rennie of The Day the Earth Stood Still. There are a number of highlights."
How different was it working on Babylon 5?
"Babylon 5 is probably the biggest, most ambitious television science fiction series ever made. It's one big novel told over five years with 110 different stories told within it. We were very proud of the story and I was quite involved in the arc of my character, Lenneir. I never really acclimatised to the process of becoming that character, however. Waking up at 4.30 am to have foam rubber applied to you head every day is not the same as rolling out of bed and becoming Will Robinson!"
What are you working on now?
"I'm narrating the television series Biography. I'm still involved in my music – I have a new album out. I have an animated project in development. I'm writing a lot of things and you never know if one of them is going to become a six or seven year project."
Do you still enjoy acting?
"Last year I returned to The Twilight Zone as an actor and a director, which I enjoyed very much.ú
What programme are you secretly a fan of?
"Ground Force. Tommy and Charlie, come and do my yard. I need a water feature!"
Lost in Space series one and two, now available on DVD
---
---