Interview: Spencer Banks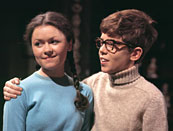 We talk to the actor who played Simon in the 1970 series Timeslip.
Out soon from Carlton is the whole of Timeslip on DVD. Broadcast in 1970, it starred Spencer Banks and Cheryl Burfield as time travelling teens Simon and Liz.
We caught up with Spencer and asked him about the show's enduring appeal.
How did you get the part?
I was spotted in the last episode of a BBC Two classic serial called Gemini that I did, which went out in late 1969, by Ruth Boswell, one of the creators of Timeslip, and that led to an audition at HTV's headquarters in Birmingham. I heard three weeks later I'd got the part.
Was you like Simon as a kid?
From an academic and studious point of view – no, you couldn't find anyone more opposite! I suppose there were elements of Simon I tried to project. I distinctly remember the first day of rehearsals I was told that at lunchtime we were going on a shopping expedition to buy some glasses. They were in fact made with clear glass. Now here we are, many years later, I've had to resort to wearing the real thing.
Was there any particular memorable moments from the filming?
In the first part The Wrong End of Time they go back to a naval research station and it gets taken over. I had to club a German guard over with a glass bottle. Well, they used a wax substitute and the heat of the studio lights led it to melt a little, so this it didn't so much as break as sank into the actor's head. I think it eventually smashed after the fourth or fifth take!
Why do you think it was such a hit?
I have to say I think it was the storyline. It had quite strong themes and was fresh. To link four storylines together and be consistently good was its strength. It seemed to come at a time when other science fiction programmes around had perhaps lost their way a little and were too reliant on special effects.
Did you get on well with Cheryl?
Extremely well - In fact we're still in very close contact and extremely good friends. Her husband, Charlie was best man at my wedding and we're godparents to the second of her children.
What was your favourite of the four main storylines?
I should have known you'd ask that. Probably, The Year of the Burn Up. There was so much more happening and you got to see the older version of Simon. And there was the return of Denis Quilley's character as an older man.
Were there any plans to do any more?
There were quite detailed discussions after the series went out, but they faded away. I was bitterly disappointed at the time. In a way I think its popularity has endured because there wasn't a second series, as there wasn't a feeling that it wouldn't have been as good the second time around.
Have you enjoyed meeting the fans over the years?
Yes, very much so. They are always very kind.
Other series like Sapphire and Steel and The Tomorrow People have recently been revived on audio. Would you like to take part if Timeslip was revived in this way?
If it was written well and had good production values, I'm always happy to listen and am always interested.
Why do you think it's still remembered today?
That's quite difficult to answer. Speaking to people at various conventions, I think it was perhaps the fact, because the story was so long-running (weekly for six months), people really identified with the characterså It was just one of those programmes that was so part of its era, in much the same way The Italian Job was in the 60s, that people remember it. Plus, again, the fact it was a one off.
What programme are you secretly a fan of?
The Prisoner, I was always a huge fan of that, and Edge of Darkness.
The complete Timeslip comes out on DVD on 19th July. Look out for a competition on the Cult site to win a copy on that day.
---
---