Interview: Steven Moffat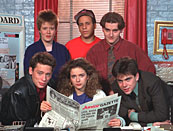 We talk to the writer of Press Gang.
Now better known as the creator and writer of Coupling, and as a writer on the new series of Doctor Who, one of Steven Moffat's earliest jobs was on Press Gang, the ITV children's drama based around a school newspaper.
With series one and two now available to buy on DVD, we grabbed Steven for an interview.
What was your reaction when you learned Press Gang was coming out on DVD?
Surprised. I had no idea it was happening until it was quite advanced, and neither did Sandra the producer. Not Network's fault. It was a consequence of Central disappearing and Carlton taking over.
What most surprised you watching the episodes again for the DVD release?
I thought, to be honest, the series one stuff was looking a bit clunky. I'm very relieved to see that series two holds up really well.
Is there anything you'd change?
Oh, loads of bits all over the place. Not sure lumbering Dexter with that accent was a smart move. He handled it well though.
You covered kids snogging and swearing, and dealt with tough issues like drugs and incest. - What was hardest to do?
I suppose the child abuse episodes were pretty tricky. In general I didn't like doing issue episodes, [they] always seemed patronising. And if I wanted advice on a serious subject, the last person I would ask would be some damned telly writer. What do we know? Nothing, that's what.
The challenge was always to make the story function for our regulars, despite the tub thumping. Thus, Something Terrible was really about Colin's redemption, rather than Cindy's abuse.
Are you surprised that Julia Sawalha remembers nothing?
She's playing that up a bit, for the cheap laughs we both adore. We did about four takes of the opening part of the commentary - on every single one (what you hear is the last) she insists, with perfect conviction, that she doesn't know whether this series was filmed in Uxbridge or not. By take four she'd already been told three times! An actress, you see, she can make you believe anything.
Julia sometime enjoys presenting herself as dippy and vague. I worked with her for five years - actors don't come any more focused or incisive.
Would you do more Press Gang? What are Spike and Lynda doing now?
I'd leap at doing more Press Gang, I loved those characters. But I wouldn't know what Spike and Lynda are doing now till I sat down to write it. I expect they separated long ago, and are pursuing very different lives, each occasionally wondering what happened to the other, but both confident that their paths are unlikely to cross again.
Until, one day...
Press Gang series two is now available on DVD.
---
---