Extra Spaced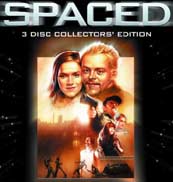 Collectors' Edition DVD of cult sitcom Spaced.
Award winning cult comedy Spaced, starring Simon Pegg and Jessica Stevenson, is coming out on DVD again on 27 September, in a special three-disc Collectors' Edition.
Containing both series of the show, the DVD set also features great rafts of features including raw footage, deleted scenes and out-takes, commentaries, biographies and the intriguing-sounding homage-o-meter. And what's more, none of it has been fiddled with by George Lucas in any way.
There's also an entire disc-worth of specially filmed documentaries including interviews will all main cast members, the director, many guest actors, journalists, and even random passers-by. Nah, not really.
To launch the release, Spaced stars Simon Pegg, Jessica Stevenson, and Nick Frost, plus director Edgar Wright will be signing a copy at London's Forbidden Planet Megastore between 12-1pm on Monday 27 September. For more details click on the link below.
---
---