Go Rogue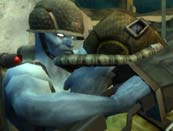 Rebellion have announced a Rogue Trooper game.
UK games and comic company Rebellion - the owners of 2000AD - announced at the EGN games show earlier this month that they're working on a Rogue Trooper videogame.
With his blue skin, white eyes and serious attitude, Rogue has been a favourite of 2000AD readers since his first appearance in 1981. A genetically-engineered soldier of the future, Rogue's combat abilities are further enhanced by help from Gunnar, Helm and Bagman - dead buddies whose personalities have been captured electronically.
Screenshots of the game released by Rebellion show Rogue in combat with Nort soldiers in a shell-pocked fortress. The game will be a third-person combat game, with some stealth needed from what we've seen.
It's the second 2000AD-based title released by Rebellion, who published Judge Dredd: Dredd vs Death last year.
Click on the link below to see more screenshots, and to read the first ever Rogue Trooper story in our comics section.
---
---