Ripping Yarns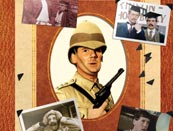 Monty Python boys' own stories come to DVD.
First transmitted in 1977 on the BBC the much-loved schoolboy annual spoofs Ripping Yarns are coming out on DVD, courtesy of Network.
Starring Monty Python stalwarts Michael Palin and Terry Jones, The The Complete Ripping Yarns features all nine episodes, plus a variety of extras, including:
Commentaries by Michael Palin and Terry Jones
Audience laughter-free tracks
Deleted scene from Murder at Moorstones Manor
Comic Roots: Michael Palin, a documentary from 1982 in which Michael returns to his Sheffield hometown
Black and Blue: Secrets - a black comedy written by Michael Palin and Terry Jones unseen since 1973 and starring Warren
Mitchell
Michael Palin's original scripts in PDF format
Gallery
Commemorative booklet
The Complete Ripping Yarns is out on 11th October.
---
---