Earthsearch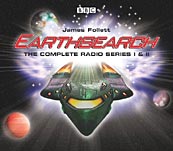 Classic radio science fiction released on CD for the first time.
Originally broadcast on BBC Radio 4 to wide acclaim, Earthsearch is set in the far future and concerns four surviving Earthmen, now living on the Challenger starship but longing to return to the home they have never known.
Challenger's group of four were born on a 115-year-long exploratory mission and have never left it. But when the Challenger attempts to return to the crew's home planet, it discovers that the Earth has vanished!
As well as sporting digitally restored audio, the release also includes an introduction from creator and writer of the series James Follett, first broadcast as part of BBC7's Men, Martians and Machines. Plus, there's an accompanying booklet detailing the series' origins and production.
---
---