Farscape frenzy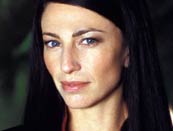 Writer and producer David Kemper talks about the mini-series.
In an interview with the Visimag website, David Kemper talks about the pressures of fitting his vision of Farscape into a mini-series.
"I originally figured it was a five-year show," says David, "but I was ready for six and seven, and I psychologically knew we could get through seven. I didn't necessarily know where it was all going to go, but I had all the big marching points that I was going to hit along the way."
But one thing was certain – the mini-series had to be big. "What happened was, Brian [Henson] basically said, 'Look, it needs to be huge. It needs to be an event, that wraps up this chapter, and it has to get us to a place where it feels satisfying that the journey of Farscape has some closure.' So being able to end this chapter was very appealing, because at the same time, we figured that it also allowed us a way open other doors for a potential future."
Farscape: The Peacekeeper Wars is currently being shown on the US Sci Fi Channel. There is no news on a UK transmission yet.
---
---