Stripsearch 2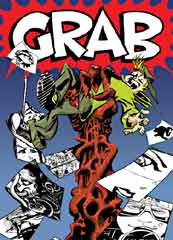 Charity offers chance to aspiring Brummie comic artists.
Do you think you've got it in you to be a comic artist? Do you think help and advice from seasoned comic professionals would improve your work? And are you from Birmingham?
Hi8us, a charity dedicated to helping young people express themselves through media, is looking for contenders for their second Stripsearch project. Ten successful applicants will take part in a series of workshops alongside notable artists including John McCrea (Spider-Man, Batman), Hunt Emerson (The Beano) and DC's chief inker James Hodgkins.
They'll also contribute to Grab, the project's own comic, get help and mentoring to set up their own freelance illustration business, and even get an introduction to top DC executives.
Applicants must be from the Birmingham area and be sixteen or over, with applications from female artists particularly welcome. Full details of how to apply, as well as more information on the project, are available at the Stripsearch website via the link below. The closing date is 10th December.
---
---