Kermit goes postal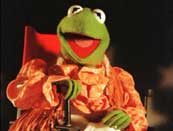 Muppets get their own stamps in America.
Muppet mayhem will soon arrive on the doorsteps of America, when Kermit and friends get their own stamps next spring.
Confirming their A-list celebrity status, Kermit and Miss Piggy will appear along with seven other Muppet favourites and their creator, Jim Henson.
Also appearing will be Dr. Bunsen and Beaker, who recently wiped the board, in a poll to find the top on-screen scientist, pushing Spock into distant second.
Explaining their decision to feature the Muppets, the US Postal Service said, "commemorative stamps portray individuals, subjects and events that are instrumental to the American experience."
So, what next for the Muppet success story - Kermit for President anyone?
---
---