O'Mara's Family Affairs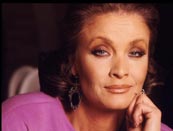 Soap stalwart joins Five's early evening drama.
Kate O'Mara is to join the cast of Family Affairs for 16 episodes in the New Year.
Somewhat of a heroine of the Cult Team (well, of Dan anyway), Kate is a bit of a soap stalwart, having played a truck magnate in The Brothers, a bloke magnet in Dynasty, a boat magnate in Howard's Way and Triangle, and a bat magnet in Doctor Who.
In Family Affairs, Kate will play Jackie Lawrence, mother of Chrissy Costello. And guess what? She's a bit of a bitch.
Series producer Alison Davis said: "We needed someone who can carry off a tough, steely character with conviction.
"Kate's played a number of strong, hard-nosed women and Jackie's going to have the same cool, emotionless exterior."
"Although I've only just joined, I can see it's going to be fast and furious, with no time for rehearsing or discussing the scripts," said Kate.
Here's hoping her character gets the chance to bag a toy boy, sunbathe topless on a ferry in a force ten gale, and do an impression of Bonnie Langford.
---
---