Farscape leaves BBC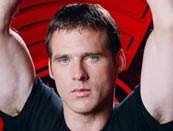 The BBC has decided not to buy the Farscape miniseries.
We're sad to announce that the BBC will not be showing Farscape: Peacekeeper Wars.
Instead, the four hour miniseries has been bought in a joint bid from Sky and a terrestrial broadcaster. With this bid on the table, BBC Two schedulers felt the miniseries would be too expensive to acquire. Right now, there are no plans for repeat runs of the first four seasons, but the series is still under licence to the BBC and this could change in the future.
Peacekeeper Wars will now be shown on Sky One on January 16 and 23 next year. This means that it will not be shown on the Sci Fi Channel in the UK as well. Terrestrial-only viewers need not worry, as a terrestrial broadcaster has picked up the rights - we'll report further on this when we can.
A DVD release of the miniseries is also planned for early next year.
We'd like to take this opportunity to say sorry to UK Farscape fans, and reassure you that the Cult site will continue to cover the show.
---
---