Classic comedy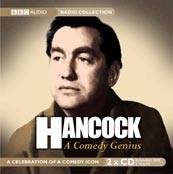 BBC Audiobooks have been raiding the archives.
Some of the best of BBC Radio's comedy output - both past and present - is out on CD.
Hot on the heels of Radio 2's Hancock Anniversary night comes Hancock: The Complete Radio Archive. Spread over 41 CDs, the set features the six radio series broadcast between 1954 and 1959.
The Goons 22 provides more classic comedy chuckles, courtesy of Harry Secombe, Peter Sellers and Spike Milligan. This collection features the episodes The Booted Gorilla, The Sale of Manhattan, The Choking Horror and The Ink Shortage.
Plus, for fans of Radio 4's current output, The Very Best of the News Quiz 2004 and I'm Sorry I Haven't A Christmas Clue are also available. The latter includes I'm Sorry I Haven't A Christmas Carol, the hugely popular special broadcast on Radio 4 last Christmas Day.
---
---