SFX goes ape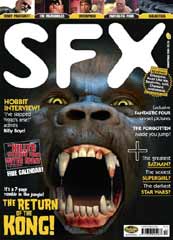 Details of the latest issue of SFX magazine.
The Christmas issue - yes, really - of SFX is upon us, coming out next Wednesday. It's got a seasonal picture of a great big gorilla on the front page.
As well as interviewing Doctor Who Producer Phil Collinson, who reveal that he "can confirm that the Daleks WILL say exterminate - it would be madness to stop that happening." the magazine also takes a look at Peter Jackson's upcoming King Kong remake. Hence the nice, seasonal pic of a giant gorilla on the front cover.
There are also interviews with dark and intense James Callis and hunky Jamie Bamber from Battlestar Galactica, ex-hobbit Billy Boyd, and behatted British king of fantasy Terry Pratchett, plus all the usual features.
---
---