Creepy Christmas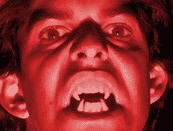 Tales to chill the blood on the BBC this Yuletide.
Almost as an antidote to the cheer and jollity of the Christmas period, the BBC One is showing a season of classic horror films to give you an extra chill.
Here's the Creepy Christmas line-up:
19 December: Rosemarie's Baby - 11.50pm
20 December: The Hearse - 2am
20 December: Halloween- 11.30pm
21 December: Twins of Evil - 1am
22 December: The Satanic Rites of Dracula - 1.05am
22 December: The Omen - 23.55pm
23 December: The Horror of Frankenstein - 1.45pm
24 December: The Legend of the Seven Golden Vampires - 1am
Also, over on BBC Two, you can watch Invasion of the Body Snatchers (1955) - 19 December at 1.20am, and Witchfinder General - 22 December at 0.20am.
For more tales of blood and gore, visit the Cult Vampires section.
---
---