Spaced star's sitcom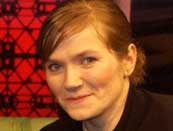 Jessica Stevenson gets her own sitcom.
Spaced star Stevenson will star in The World According To Bex, part of BBC One's new winter season.
With Bridget Jones raking it in at the cinema, it's not surprising that the BBC should turn to the subject of singledom for its next hit show.
The World According To Bex features Stevenson as Bex Atwell, a secretary who's stuck in an 'almost' world - 'almost' in a relationship, 'almost' in a good job, 'almost' a size 10/12.
Bex is trying to figure out what a smart woman is supposed to do in a world where men behave like... well, men, but the more she discovers, the more infuriating they become.
The sitcom has been created by Fred Barron who dreamt up hit BBC sitcom My Family. Greg Wise, Oliver Chris, Clive Russell, Raquel Cassidy and Zita Sattar also star.
---
---