New Miss Marple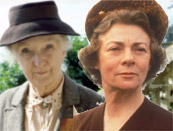 Regeneration scene unlikely, say insiders.
It now seems sadly certain that viewers will not see Joan Hickson regenerating into Geraldine McEwan in the new series of Miss Marple.
In a clear break with the past, the ITV series will even feature new versions of classic stories, with the first episode transmitting this Christmas.
After extensive negotiations with the Christie estate, an updated design for the 4.50 From Paddington is confidently predicted to appear.
There is intense speculation over what the new versions will contain. Is it true that there'll be lesbianism in Murder At The Vicarage? Is Zoe Wanamaker really in A Murder Is Announced? What is the fate of Miss Marple's home village, St Mary Mead? And is she really wearing a leather cardigan?
Marple (new name, new logo) can be seen on ITV, starting December, with a DVD release in February 2005. Paul McGann isn't in the first series.
---
---