Magic Roundabout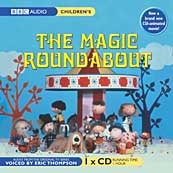 Classic episodes to be re-released on audio.
Ten of the most popular stories from the BBC television series are coming out on cassette and CD
Narrated by Eric Thompson, the release is a re-issue of an LP released yonks ago and long-since deleted.
Created by Serge Danot in 1965, The Magic Roundabout featured a rather off-the-wall cast. It included Dougal, a shaggy dog who lived on a strict diet of sugar; an eccentric bouncing character called Zebedee, a strangely chilled-out rabbit named Dylan, Ermintrude the pink cow, Florence, Brian the snail and their friends in the Garden.
The Magic Roundabout is released by BBC Audiobooks on 7 February 2005.
The release also boasts an interview with Eric Thompson tagged on the end.
---
---