Voyager 5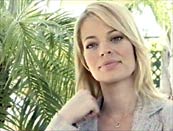 Details of the Star Trek: Voyager fifth season DVD box set.
Out on 20 January from Paramount Home Entertainment, this box set features all the episodes and a host of features, plus it's red so you can't lose it.
Highlights this time around include Seven of Nine turning even more human, a conflict with the Malon, and a meeting with the Borg Queen - not seen since Star Trek: First Contact.
Plus, the Doctor falls in love, Paris gets demoted and Geordi La Forge (LeVar Burton) turns up in the show's 100th episode, Timeless.
Special features include:
Braving The Unknown: Season 5
Voyager Time Capsule: B'Elenna Torres
Voyager Time Capsule: Tom Paris
The Borg Queen Speaks!
Red Alert! Special FX
Delta Quadrant Make-up Designs
Photo Gallery
Lost Transmissions: Easter Eggs
Trailers
---
---