Ghosts of Albion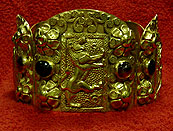 It's the last chance to win Charlemagne's Crown in our Treasure Hunt.
This Saturday sees the Ghosts of Albion event taking place in London's West End, hosted by Antony Daniels (C3PO in Star Wars) - and one lucky attendee will be walking away with a fabulous crown!
If you want to be among the audience, there's still a chance to win VIP tickets to the event - just head over to the Ghosts of Albion site and try your hand at the Final Challenge quiz. You could get to meet the cast of Ghosts of Albion - and that crown could be on your head by the end of the day.
---
---