Invisible Man DVD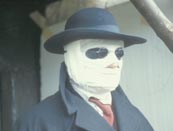 BBC's Invisible Man comes to light on DVD.
Coming out on 4 April 2005 from BBC Worldwide is the 1984 BBC adaptation of H G Wells' classic tale.
This version is fondly remembered for its close adherence to the text and for applying costume drama authenticity to the proceedings.
Here Pip Donaghy plays Griffin, whose experiments with invisibility lead him to a life of crime, as the dark side of his personality come to the fore.
Extras accompanying the DVD include a collector's booklet and an extract from the BBC Two review programme Did You See? (30/09/84).
---
---