Dominick Hide DVD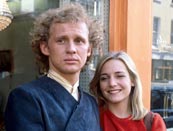 Peter Firth in two tales of time travel.
The Flipside of Dominick Hide and Another Flip for Dominick are coming out on one DVD from BBC Worldwide on 4 April 2005.
Originally broadcast in 1980 as part of the BBC's Play for Today strand, The Flipside Of Dominic Hide stars Peter Firth as the eponymous hero.
Hyde is a time traveller from the year 2130 who visits 1980 to study the London transport system (presumably to see what it was like before Ken Livingstone introduced bendy buses and the Congestion Charge).
His permit to travel only allows him to observe, but Hide can't resist tracing his great great grandfather. Further problems ensue when he falls in love with Jane, a woman from the past.
In Another Flip For Dominic, Hide has resigned himself to the fact he will never see Jane or his son in the past again.
Now a teacher of temporal observers, he is brought back to the past to trace one of his students, Pyrus Bonnington, who has gone missing. It seems Bonnington is emulating his mentor's time travelling exploits.
Soon Hide finds the past catches up with him once more.
---
---