Firefly three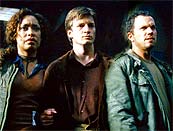 Serenity will hopefully only be the first Firefly movie.
Star Nathan Fillion (Captain Malcolm Reynolds) has said that if the Serenity film is a success the main cast will return.
"If this first movie does well, we're all roped into a trilogy," said Fillion. "We all signed for a trilogy so if this first one does well, we're going to do two more."
Fillion hopes that a spin-off TV series will follow, and has absolute faith in helmer Joss Whedon's vision.
"Joss is a brilliant man. He's one of those guys that is so very, very clever, he can leave you in the dust intellectually. But he's one of those guys that keeps his feet on the ground and doesn't ever make you feel stupid. He's far more intelligent than I. How he does it? I don't know. If I could kill him and take that talent I would."
---
---