Black for Stargate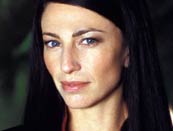 Claudia Black will appear alongside Ben Browder in Stargate.
Hot on the heels of the announcement by Sci Fi Channel that Ben Browder would be joining the cast of Stargate SG-1, comes the news that Claudia Black will return to the series to appear alongside her Farscape co-star.
Whereas Browder will be a series regular, Black will appear halfway through the ninth season in a five episode story arc.
Black makes her debut in the eighth season episode Prometheus Unbound, which will broadcast tomorrow, 21 December on Sky One.
She plays Vala, an alien who hijacks the spaceship Prometheus to transport her people, and who strikes up a friendship with Daniel Jackson in the process.
---
---