Ghosts of Albion Event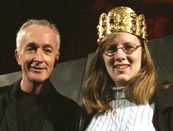 Who won Charlemagne's Crown?
Puzzle solvers, treasure hunters and fans of Ghosts of Albion alike flocked to London's Prince Charles Cinema on Saturday, all hoping to win the golden Crown of Charlemagne.
The regal headgear, worth over £2,000, was the grand prize in a complex quest tied in with Cult's latest online drama, Ghosts of Albion: Embers.
Rosalind Harvey, pictured with Cult favourite Anthony Daniels, beat off stiff competition in a series of challenging puzzles set by puzzlemaster Chris Maslanka to claim the prize.
As well as the competition for the crown, attendees were able to see the first big screen presentation of Embers and meet the cast and crew.
Daniels (Nelson), was joined by fellow cast members Rory Kinnear (William), Jasmine Hyde (Tamara), Roy Skelton (Henry/Farris), India Fisher (Sophia) who all answered questions from the audience, along with director/producer John Ainsworth, composer Peter Green and sound designers Andy Hardwick and Gareth Jenkins.
Afterwards, Rosalind was treated to a slap up meal in Soho, then left to enjoy her powerful mystic prize. Thankfully, no zombie dragons have been sighted wreaking havoc since the weekend.
---
---