Blake's 7 reunion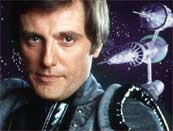 Star signing to celebrate the new DVD release confirmed.
To celebrate the release of the second season of Blake's 7 on DVD on 17 January 2005, the Blake's 7 fan club Horizon have organised a signing in conjunction with BBC Worldwide.
The event, to be held at the Tricycle Theatre, 269 Kilburn High Rd, London on 16 January will feature the following cast members (subject to work commitments):
Gareth Thomas (Blake), Jan Chappell (Cally), Michael Keating (Vila), Jacqueline Pearce (Servalan), David Jackson (Gan), Peter Tuddenham (Zen/Orac) and Brian Croucher (Travis), together with June Hudson (B7 Costume Designer) and Kevin Davies (Producer/Director of the B7 DVD Extra Features.)
As well as a signing, Horizon has arranged a screening of the short spoof film Blake's Junction 7. Set at Newport Pagnell service station, it features The Office stars Martin Freeman and Mackenzie Crook, Johnny Vegas, and the voice of Peter Tuddenham as Orac.
For further information email Diane Gies at horizonb7@dsl.pipex.com
---
---