Nick's Nebulous notes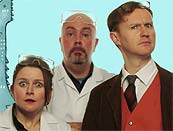 Director of new cult radio series reveals all.
To coincide with tonight's launch of Nebulous on Radio 4, we caught up with director and sound designer Nicholas Briggs to find out more about the series.
How did you get involved with Nebulous?
When Mark Gatiss and Graham Duff decided the best way to get Nebulous made was to go through (production company) Baby Cow and a secure a bit of development money to have a pilot episode made, Mark asked me to help out.
We've known each other for a number of years and had been fellow sufferers on various, dubious Doctor Who spin-off productions. I've also worked with Mark a number of times on Big Finish (Doctor Who CD producers) productions. Mark initially asked me about studio bookings for Nebulous. Then he asked me to do the sound design. Then he asked me to come to the recording and give them the benefit of my 'technical expertise'. When I got there, I discovered that he'd actually meant he wanted me to direct it.
Mark's an intergalactic man of mystery, you see... and has actually always been the real Doctor Who... Sidney Newman based it on him, you know. So, anyway, when Baby Cow liked the pilot and Radio 4 liked the pilot - about a year after it was made - they asked me to do the series. I had a brief meeting with Baby Cow comedy genius Henry Normal, who said that he liked the pilot and wanted "more of the same, please"... and off we went!
Tell us about the cast.
Mark was, of course, born to play this part. Like all the best actors, he comes to the recording knowing his character inside out. His performance is fully formed but not set in stone. And he makes me wet myself laughing. He alternates between that beautifully clipped 1950s delivery and this great, close-mike intimate stuff. He's made Nebulous into a beautifully complex character. It's all there in Graham's scripts; but Mark really does bring out the inner tragedy of this noble, slightly vain, slightly confused man of science... and stuff.
Is it harder to direct someone like Mark, who's a director himself?
That wasn't an issue at all. In some ways, it makes it easier, because Mark knows what it's like to direct, so it makes him very helpful. He knows what it's like to be in my position, so why should he make it difficult.
Also, I have immense respect for him and am always keen on useful input. One of my directing mottos is 'I don't care who's right, as long as someone is'. I'm not the kind of director who wants to have the last word. And Mark is so intrinsic to the whole Nebulous thing that he's more than just the leading man. He is setting the comedy standard and style of the production. So it's not a question of telling him what to do - which is what some people might think direction is about. As with all actors, it's a question of observing what they're offering and then helping them to make it better.
So, who else is in it?
Rosie Cavelero plays Paula Breeze, his dizzy assistant. Mark once said to me that Rosie has funny bones. She is just hilarious. Bursting with energy and loves the job. On the last day of recording, I finally put her in a booth where I could actually see her from the control room. I'd never realised how much she darted around the mike. It was as if someone had electrified the floor!
Paul Putner, who plays Harry, the man in the hover chair with a voice box permanently set on 'extra loud', is fantastically enthusiastic and a great silly voice man. It was his choice to make Harry's horrible voice largely to do with his performance and virtually nothing to do with a post-production effect...and it works beautifully. He's a great sci fi fan too, so he knows exactly what's required when it comes to alien villain voices too. His Quimp the Cactus monster voice made us all laugh so much that those scenes took ages to do. What larks!
David Warner, arch villain Dr Klench, is possibly the most laid back actor in the known universe. Then he bursts into life with this kind of manic energy every so often. It made me laugh a lot. Lovely man.
Graham Crowden is a genuine eccentric and an utter joy to work with. He turned the green room into Anecdote Central, and we loved him for it. His unhelpful, impatient Sir Ronald Rolands is a fantastic comedy creation. He quite often came up with ways of doing a scene that no other human being would ever think of!
Writer Graham Duff is also an accomplished actor, and although I really mustn't name any favourites (for fear of enraging the rest of the cast!), I have to confess that his manly portrayal of Nebulous's other assistant, Rory Lawson, is a slow-burning delight. Not as initially eccentric as the other characters, Rory's oddly offensive views and character ticks have a snowball comedy effect. As I'm sound designing the later episodes, I get a particular pleasure from Rory's slightly naff exploits.
Julia Dalkin plays Gemini, the rather perky, always a bit annoying, obligatory computer. But her comedic flare is given full reign when she breathes life into a power crazed spec of sentient dust and a foreign fashion model-come-scientist. I laughed far too much.
Julia Deakin plays Dr Erica Flazenby, Nebulous's long-lost love. She has a great voice and gives an almost uncomfortably sexy performance. I thought of dubbing in the squeak of her latex uniform, but it's somehow already there in her voice!
Matt Wolf was our all-purpose voice man, playing henchmen and villains of the week. His range of voices and enthusiasm knows no bounds. You'll never recognise him as the same actor. Brilliant.
Can we expect some cameos from you too?
I do crop up from time to time. I was initially going to be one half of the twin voices of the computer Gemini; but I felt that Julia's voice worked better on its own.
What's the craziest SF concept in Nebulous?
Blimey! Every script is packed with such wonderfully stupid ideas. Sentient dust has to come pretty near the top of the list, but that's probably because Julia's voice for the Mother Speck is just so daft. I quite like Dr Klench's second plan for world domination, because it just seems so utterly pointless. That's in Episode 6, The Man Who Polished The Sun and it's well worth waiting for.
Is sound designing for radio a different discipline to working on the Big Finish CDs?
I don't think that good, complex sound design is necessarily too complex for radio; but this is a comedy. In the final analysis, it's the words that are funny. It's not a comedy about funny noises or music. So the soundscape must paint the picture of a world where the comedy logic sits comfortably - you know, chittering computers, sliding doors, wobbly alien warbles - but it's what the characters are saying that makes you laugh.
If the sound design didn't put them in their correct fictional context, it wouldn't be quite so funny, but it would still be funny. So I have had to curb my instincts to make the sound design as multi-layered as I would for, say, a Big Finish Dalek Empire CD.
Graham's input has been invaluable on that. It's great to have someone come afresh to it and say useful stuff like, 'What was that funny noise supposed to be, Nick?'.
How long does it take to create the sci fi sounds for an episode of Nebulous?
It honestly varies quite considerably. The budget only allows for about two seconds of sound design time (I'm exaggerating for comic effect, ha, ha...that's just what it feels like), but I take about four or five days on each episode. It helped that some of the ground work had been done for the pilot... although I did change quite a lot of that.
What's your favourite studio gizmo for making alien noises?
Probably my old Roland SH-101 keyboard. It makes all those lovely, silly, old-fashioned synth noises. Also very handy for my 1970s style incidental music. But, I suppose, most of all, I just enjoy making odd acoustic noises and then processing them strangely. I can't even begin to tell you how I did sentient dust, but it did involve some unpleasant friction burns.
Are there plans for more episodes, and will the first series be released on CD?
Ask those in power. Naturally, I would love to do more. I have no idea about a CD release. It would make sense, wouldn't it?
With Nebulous and the very popular new Hitchhiker's episodes, do you foresee good times ahead for Radio Science Fiction?
I should jolly well hope so.
Can you give us five fabulous facts about Nebulous?
Nebulous Never Married
Sir Ronald Rolands eats dogs
Paul Putner does the most disgusting eating noises known to humanity
My vacuum cleaner stars in one episode
The entire cast sings the theme tune of Bod as a Gregorian chant

Nebulous starts at 11pm on Radio 4 tonight.
---
---