Smallville special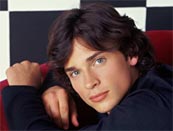 E4 takes us behind-the-scenes on the Clark Kent series.
Broadcast on Monday 17 January at 9pm, Smallville Backstage Special includes interviews with the cast and crew of the series.
They look back over the first three seasons, picking their favourite clips and regaling us with humorous tales. They also give us the gossip on what to expect in Smallville's fourth year.
One thing we won't be seeing in the new season is Terence Stamp as Jor-El.
Sci Fi Wire reports that the actor who voices Clark Kent's father said in a recent interview "TV's too tough for an actor of my age, you know? I've got enormous respect for TV actors. I couldn't do that work. So it's unlikely that you're going to see me on TV."
But Stamp, who played Zod in the Superman films, is delighted to be part of the latest TV incarnation.
"When they came to me for Smallville and said, 'Do you want to be in it?' I said, 'Really no,'" Stamp recalled. "And then they said, 'Well, how would you like to be a voice over?' And I said, 'Yeah, I'd love that.' I have this really expensive voice. I mean, it costs dollars to arrive at this. I don't mean I earn a lot from it.
"It's like a treat, because I get a lot of credit... it's like a connection with a whole new generation of viewers. "
Smallville returns to E4 on 24 January at 9pm.
---
---