Flynn on Souls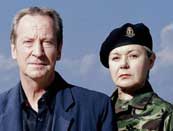 Barbara Flynn stars in this week's Sea of Souls.
In this week's Sea Of Souls, the team investigate a soldier, Corporal Daniel Blakemore (Danny Midwinter), who is convinced he is cursed and has foreseen his own death.
Playing Army psychologist Lt Colonel Petra Summers is Barbara Flynn.
"I don't know why I get cast in these roles, but feisty, strong women is kind of my bag really," says Flynn about the role.
"From Cracker to The Beiderbecke Affair to A Very Peculiar Practice, that's what I get offered. I don't know what casting directors see in me that they think, 'We need a feisty old bag, let's get Barbara in'. But, truth be told, they are much more interesting to play than really wet women.
"I've never played anyone in the Army before so this was rather different and nice for me, not least because my father was in the Royal Medical Corps. Petra Summers appears to be quite a sinister character and it's difficult to tell if she is brainwashing these soldiers or not.
"There's a real mystery about this woman and that was great fun to try and get across. I won't say much more about the story because it's this sense of unease that's going to keep people glued to their screens."
Sea of Souls is on Saturday and Sunday at 9pm.
---
---