Claudia Black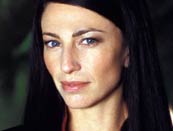 Interview: Aeryn actress chats about Farscape: Peacekeeper Wars.
We caught up with Claudia in advance of Sky One's screening of the Farscape mini-series on Sunday 16 and 23 January.
Read her thoughts on returning below.
What was it like returning to Farscape?


You had quite a few undignified scenes - what were they like to film?


What do you think of the reaction to the miniseries so far?


There's a lot of loose ends tied up in the mini-series...


What was it like playing Vala on Stargate?


If both you and Ben end up working on Stargate, there'll be a campaign to have you acting opposite each other within moments.


Do you think science fiction is challenging for actors?


Will the mini-series be the last Farscape we see?


If it were to come back, is there any story you'd like told?


Did you get to take any props as a memento?


Is there anything else you'd like to add?


---
---