Relativity rhymes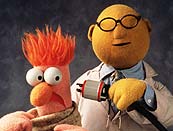 Poems from Pratchett and puppets celebrate Einstein.
Writer Terry Pratchett, astronomer Sir Patrick Moore and Muppet scientists Beaker and Honeydew are just some of the people to have submitted poems for a competition to mark both Einstein Year and National Science Week.
For his poem, writer Terry Pratchett dipped into multiple universes to find the time and inspiration for his poem, whilst meteorite expert Dr Monica Grady introduced a Martian into her limerick. New Doctor Who writer Paul Cornell has submitted a poem too.
"Einstein's Theory of Relativity was one of the most important theories of the Twentieth Century, yet few people understand its details," says Roland Jackson, Chief Executive of the British Association for the Advancement of Science, co-ordinators of National Science Week. "However, its themes - time, space and energy - have captured all our imaginations."
For the competition, the BA would like you to send them poems based upon the themes of Einstein's General Theory of Relativity. Poems may be in any style, from rhyme to sonnets, haiku to limericks, and must be no longer than 40 lines.
There are five age groups:
4-7 years
8-11 years
12-15 years
16-18 years
Adults
The closing date for the competition is 11 February and the winners will be announced during National Science Week 2005.
More information can be found at the BA website.
---
---