More Galactica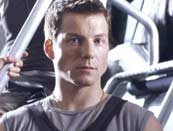 Battlestar Galactica set for second season says producer.
Talking at a press junket in Universal City, California, Ronald D. Moore, said that he is already working on season two.
"The network has asked for backup scripts for the second season, so we're working on six scripts right now with the writing staff," Moore said. "I'm deep into what the second season would be. The first season ends on... multiple cliffhangers... and so it's a lot of resolving those cliffhangers."
Moore went on to outline exactly what we can expect from the second season.
"Most of the things that we're doing in season two were at least begun in season one. I think probably the big opportunity in season two that we didn't get in season one is to open up the Cylon world a little more. To see more of other Cylons. See how the society functions a little bit more. And give a sense of what that community is all about."
"The overall arc has to do with the relationship between Adama and Laura Roslin, the sort of transition of both of them from what you think is going to be their roles of the military hawk and the civilian dove. [He's] starting to realise that actually that she's a harder-line character than he is, and that he is the son, not of a long line of military men, but the son of a civil liberties attorney."
---
---