Lost in Space 3 DVD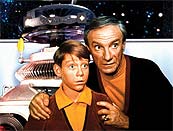 Warning! Warning! The space family Robinson are back.
Out on 28 March is the final Lost in Space DVD, containing the whole of season three.
In this season, the Jupiter 2 crew met monsters including cyborgs, frozen aliens and invisible birds, the last of which must have cut down the effects budget nicely.
Highlights include Earth time-travel episode Visit to a Hostile Planet, and the wonderfully titled The Great Vegetable Rebellion. The release also contains over forty teasers and interstitial clips, and interview clips of Bull Mumy and Jonathan Harris.
---
---