Browder on Stargate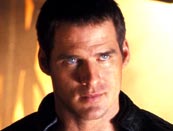 GateWorld talks to Ben Browder about his role in Stargate.
Talking about joining Stargate for its ninth season, Ben Browder reveals he doesn't even know his character's full name (only that he's a Lieutenant Colonel with the initials M.M.).
"I have broad strokes," he says. "You guys probably have as much or more information than I do, because you're that way. You're like earthworms. It's unbelievable - you're everywhere!"
Asked if the character will be different from Crichton, Browder says: "Well, the first thing that I'll have to do is see where the scripts go. As much as you can do as an actor, it's the script which endows a character one way or the other. So until we actually get into the process of doing it, I have no preset determination about how the character is going to be."
One thing he does know is that working on Stargate will reunite him with his Farscape co-star Claudia Black, a factor he's delighted about.
"I'll always be glad to be working with Claudia. We're good friends and she's a fantastic actress."
He does admit that it may be odd to work with Black on a different series.
"It'll be different. I'm sure it'll be different. But we'll see how that goes. You've worked with actors sort of sporadically over time. And every time you do a different production the dynamic is slightly different. Probably what won't change is the way that Claudia and I work, as actors together, but how the characters are and how the storylines go will obviously impact what comes out on the screen."
---
---