Hannigan on Mars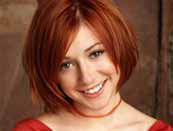 Buffy actress guests on teen sleuth show.
Alyson Hannigan has swapped demon-infested Sunnydale for the mystery-filled town of Neptune, to make a guest appearance on UPN's cult hit Veronica Mars.
According to the Zap2it.com website, she'll play struggling actress Trina Echolls in the episode Russkie Business, with a possibility that the role will recur.
"It's a pretty dramatic episode," said her co-star Jason Dohring. "A lot of heavy stuff happens. Originally, they didn't have [Trina] being snippy, but it's cool for Alyson to have a bit of an edge. It's a good match for me, because I'm snippy on the show. She inherited half of it, I caught the whole thing."
Alyson was less lucky securing a role in ABC sitcom In the Game. Despite Hollywood reports that she would play Jennifer Love Hewitt's best friend in the new series, the role was instead filled by Roseanne's Sara Gilbert.
---
---