Fry's Hitch role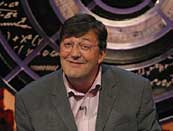 Stephen Fry will be the voice of the book in the Hitchhiker's film.
The actor, celebrated for his reading of the Harry Potter books, is delighted to have won the coveted role.
"Being asked to do the voice of The Guide is like having your birthday on Christmas Day, discovering a winning lottery ticket in your stocking and having chocolate poured all over you," gushed Fry.
The film's executive producer Robbie Stamp believes that Douglas Adams would have been "delighted" with the choice of Fry. "His humour and intelligence are perfect for the voice of The Guide," he said.
The Hitchhiker's Guide to the Galaxy, which stars Martin Freeman as Arthur Dent, will be released in May 2005.
---
---