Galactica storms US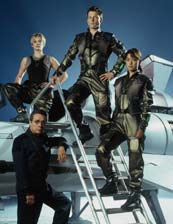 Great ratings for Battlestar Galactica premiere on Sci Fi Channel.
Here in the UK, we're almost at the end of Battlestar Galactica's first season, but over in the States they're just getting started, with the first epsiode premiering on the Sci Fi Channel last week.
Over three million TVs were tuned to the cable-only channel during Galactica, giving it the second-highest ratings ever for Sci Fi. (The Stargate: Atlantis premiere, since you ask.)
It even outperformed a new episode of Enterprise in several key demographics, despite the Trek ep being shown on a network rather than a cable channel.
All this is good news for Sci Fi, who had been concerned that ratings would be low due to viewers downloading the show from the internet rather than watching it on TV.
The final episode of Battlestar Galactica season one airs on Sky One in the UK on Monday at 8pm. But don't worry, a further six episodes have already been commissioned.
---
---