Blue Peter boy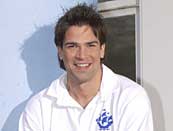 Show's 31st presenter is announced.
Welsh S4C's Gethin Jones will replace Simon Thomas at the end of April.
The very sporty looking Jones said, "I am so excited, this really is a dream come true.
"I had my first audition a few months ago and the waiting has been unbearable!
"When I got the job I spent several days thinking I must have been imagining it and that I hadn't really got the job after all. I've wanted to present Blue Peter ever since I was a viewer myself and I can't wait to get stuck in."
Jones' first reports will include taking part in extreme winter sports events and flying with the Red Arrows.
To remind yourselves of the guys and gals that came before him, visit our I Love Blue Peter section.
---
---