Adams asteroid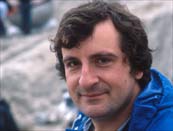 An asteroid has been named after the Hitchhiker's creator.
The International Astronomical Union's Minor Planet Center announced Asteroid Douglasadams as one of 71 new celestial bodies at a ceremony on 25 January in Cambridge, Massachusetts.
The asteroid was formerly known as 2001 DA42, and was chosen because of the significance of the digits 4 and 2 - the answer to "life, the universe and everything" in Adams' Hitchhiker's work.
This is not the first time Douglas Adams has been honoured in such a way. Shortly after the author's death in 2001 the same body named an asteroid after his Hitchhiker's hero Arthur Dent.
---
---