Chain reaction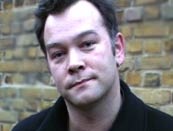 Stewart Lee interviews Alan Moore in new radio show.
An interview show on Radio 4, Chain Reaction puts a new twist on this ancient format. Each week an interviewer picks an interviewee - who then stays on to be next week's interviewer.
This week, comedian Stewart Lee (of Lee and Herring fame) interviewed comics legend Alan Moore - the writer responsible for Watchmen, Halo Jones and many more classics.
Subjects under discussion include superheroes, blue hair, Watchmen and more. Plus, if you visit the webpage about the show, there's an extra little snippet of Lee talking about playing a Brummie cyberman in Cult's own Doctor Who webcast, Real Time.
Next week Alan Moore interviews musician Brian Eno. Chain Reaction is on Thursday at 6.30pm.
---
---