Stargate Atlantis DVDs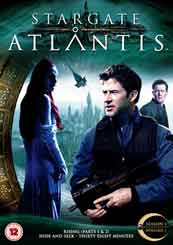 Details of the first DVD release of the Stargate spin-off.
A spin-off from long running series Stargate SG-1, Stargate Atlantis follows the fortunes of an elite team headed by brilliant scientist Dr Elizabeth Weir. Sent from SG-1 to investigate a newly discovered stargate, the team find themselves trapped in a new galaxy.
The first Stargate Atlantis DVD release comes out on March 14, and contains the first four episodes of season one, Rising parts one and two, Hide and Seek and Thirty Eight Minutes.
Extras on the DVD include a VIP Set and Studio Tour with Director Peter Deluise, a preview to Atlantis, photo and production galleries.
Check back soon to read an interview with Torri Higginson, Dr Weir in Atlantis.
---
---