Never to return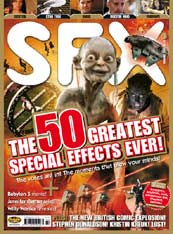 SFX interviewees leave their shows behind.
The stars of Angel and Farscape have revealed that reunion plans aren't high on their agendas - because they would be too naff.
"I would never do an Angel reunion," says David Boreanaz, who is preparing to star in his own TV cop show. "If it were a film, yeah. I always thought it would be great on the big screen. That would be the way to go. But a reunion? Nah. There's no purpose to it. I don't fee like going back to something unless it's bigger and challenging. A reunion? It's embarrassing."
Meanwhile, Farscape's Claudia Black offers just a little more hope, despite signing up for a recurring role on Stargate SG1.
"We'll see, we'll see," she says. "I think once you've done sci fi you have to be able to keep a sense of humour. I always thought it was cool when I was a kid and there was a show I loved and they'd bring people back for a Christmas special, but there's always that weird feeling, 'Couldn't they get a job anywhere else?!'"
Other highlights include interviews with Star Trek's George Takei, Dead Like Me's Jasmine Guy, Lost's Terry O'Quinn and Smallville's Kristin Kreuk.
There's news on a CGI Thunderbirds series, new Doctor Who photos, the Top 50 Special Effects Moments ever - and a behind-the scenes look at Alias star Jennifer Garner's new film, Elektra.
SFX 126 is on sale now.
---
---