Stargate: Atlantis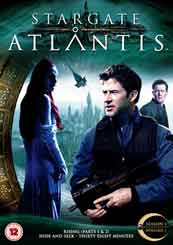 Interview: Torri Higginson talks about playing Dr Elizabeth Weir.
Torri Higginson plays polymath leader Dr Weir in Stargate SG-1 spin-off Atlantis. Promoting the release of the first Stargate: Atlantis DVDs, she chatted about the role, imagination and unflattering uniforms.
Did you follow Stargate SG-1 before getting the part?
I always hate answering this question, because actually no, I didn't. I'm not a big telly watcher at all. I watch British stuff, The League of Gentlemen and things like that. So it was a huge learning curve when I got the show. They passed me all these DVDs and I went Stargate mad for a couple of weeks.
Did any of the SG-1 cast give you any advice?
They said start drinking now, and don't stop for about nine years. They just told us to have fun.
How did you decide how to play Dr Weir?
She'd been introduced before and [I had to] make decisions about how much I researched the actor that played this character before and how much do I just go from here and make it my own.
I didn't really worry too much about it. I discovered that she'd been introduced already after I was offered the job, which was great, because if I'd known that it might have been a more intimidating process, I might have second-guessed my instincts in the audition room wondering what it was they liked about the other actor.
I just made my own choices based on my instincts and the scripts they gave me. When I discovered that she had been introduced already I decided to see her episodes, to get the backstory, but every actor is so dramatically different, it's apples and oranges no matter what you do. I think Jessica Steen made some very interesting choices. I liked what she did and I allowed it to sit in the back of my head, [feeling], maybe that can add some texture somewhere, but I can't be her, and if they wanted me to be her, it would be her here doing it.
Dr Weir is a very powerful woman, isn't she? Is that fun to play?
I hope she comes across that way.
I love conflict and insecurity in people, that's my love affair with human nature, and I get frustrated that I can't explore that side of her more. I can't explore her loneliness or her fear, her insecurity, she has to just be powerful because she's responsible for a large number of people who are not military, who haven't been trained to take care of themselves. They're there just as researchers and scientists and she feels very responsible for those people, very mother lion-like.
What I like about her strength is, she doesn't have the ego to be scared to say, ûI don't know what to do here right now.ú That is a great sign of strength, which I don't know that I have. When you are insecure you cover that with bravado, and I like she doesn't do that.
What do you think of the uniform?
Oh, it's god awful! And it's so similar to Galaxy Quest that it's a bit weird. I just saw Galaxy Quest recently and I went, ûOh my God, that's our costume!ú
I love our costume lady Christina, she's an adorable woman, and she's got MGM and Brad Wright and got directors, [and] actors, and everyone is throwing in their two cents, so I don't envy her her job whatsoever. But I'm not a big fan of [the uniform]. I don't think I look very attractive really!
What would you prefer?
In a few episodes [Dr Weir] dresses down and is very civilian, which makes sense, because she is civilian, but on screen it's too casual. If everybody else is in uniform and she's not, you lose that visual idea of power, and that has to be there. Personally, I just think jeans and a T shirt would be fantastic. But if not that, then at least make these outfits out of natural fibre – not quite so chafing!
What did you think when you first saw the Stargate itself?
I was surprised at how cool I thought it was. I thought, ûOh, whatever, I've been on myriad sets.ú When I walked in I was like a kid, I was just really excited. I went, ûThat's cool!ú I found myself going right up to it, enjoyed walking through it, through and back, through and back a few times. I was definitely surprised I got so kid-like in my enjoyment of it.
How easy is to keep thing realistic on such a CGI-based show?
Well, that's been a learning curve. It's something that, to be honest, I didn't enjoy. Coming from drama, I prefer looking in somebody's eyes, responding to whatever they're telling me, and just having an honest emotional reaction.
So it was really tough for the first few episodes. I'm learning a few ways around it, and to enjoy it more now. For me the biggest breakthrough was, instead of looking at in terms of it being something stifling and fake, and that it's hard work, I went, ûOh, it's like being a kidú, it's just going back to your imagination, like when as a kid you made forts in your bedroom.
It's become more enjoyable now. When I get frustrated in a scene or I don't know how to react or I'm worried about looking stupid, I go back to that thought. ûLet's go back to be a kid and playú.
How do you feel about Atlantis being renewed for a second season?
Very excited. As a medium television is not very loyal, and as an actor I've learnt to live as a pessimist, as that allows me to always be pleasantly surprised instead of continually disappointed. I feel very very lucky and very grateful.
I just did my first convention here in London and it was a very interesting experience. Meeting all these fans and [realising], they're only five per cent of the viewing audience of television, but they're the most loyal. And their loyalty and their commitment to these shows, it's as if it bumps that number from five to fifty and means that we get much more stability than on most other shows.
Did you enjoy the convention?
I was terrified, to begin with. I was terrified and I was also very reticent. I thought, ûIt's not my thing, I don't embrace celebrity.ú I find it an awkward, strange thing. I think I'm an actor because I'm not that comfortable being myself in a room of people
So the idea of showing up in front of hundreds of people and just being yourself was very frightening. But my experience at the end of the weekend was that it was absolutely fantastic. I don't think I'll do many of them because it's exhausting. I spent all of Monday sleeping, after three days of shaking hands and having a conversation with five hundred people.
I was amazed by these people, I found them just so warm, and so committed, and so kind and curious, and there were smart questions being asked. But it was exhausting, because if you're going to do it, you have to give your all, and that's a lot of people to give your all to.
Are any SG-1/Atlantis crossovers likely?
I hope so! There's definitely mumblings – we hear rumours.
I had such a good time when I did Stargate, I just love those actors and I love those characters and I think it would be really fun to cross over. And I think Dr Weir had a bit of a thing for Dr Jackson.
Do you think Atlantis will run for as long as SG-1?
I think if any show has a chance, it is Atlantis. Because we were created by the people who created Stargate, so they obviously did it right the first time. They have those same instincts plus eight years of experience. We also have this wonderful group of people who were already willing to embrace us.
I hear you're a fan of extreme travel. Would you jump through a stargate in real life?
I wonder. I know I would if it was SG-1 and I knew I could come back. I don't know if I would if it was as Elizabeth did, not knowing if they could come back. I wouldn't hesitate if I knew I could come back.
---
---