Acorn Antiques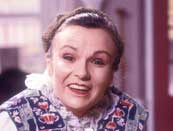 Victoria Wood's spoof soap sketches come out on DVD.
With Acorn Antiques The Musical opening tomorrow night and Victoria Wood recently honoured with a BAFTA tribute, BBC Worldwide have made the canny move of releasing the original Acorn Antiques sketches.
So tune in once again to see how Miss Babs and Miss Berta are coping in the heady world of antique selling, where the drama isn't just about how to get hold of Gainsborough's Blue Boy in green.
There's off-screen troublesome triplets to support, the discovery of long lost children amongst the staff, extra-marital cardigan touching, and hostile takeover bids form swarthy moustached businessmen to cope with. Fortunately, Mrs Overall is always tottering on the stairs with a mug of homemade coffee and cake.
If the sketches weren't hilarious enough, we also have Susie Blake's TV announcer from hell introducing each episode.
Plus, we go behind-the-scenes via a spoof documentary, where we discover that Mrs Overall is a posh actress of the old school whom the rest of the cast despise. Clever stuff - especially to those familiar with the rocky history of Crossroads.
Unfortunately, like Acorn Antiques itself, the DVD is a no-frills affair with no extra features, bar subtitles should you be laughing too hard to hear the next line. A recipe for macaroons would have been appreciated.
---
---